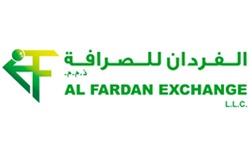 Al Fardan Exchange
Store Overview
Al Fardan Exchange is a member of the Al Fardan Group, one of the
leading family-owned conglomerates in the region with a 50-year legacy. It is one of the many different
businesses across several sectors under the umbrella of Al Fardan Group, ranging from real estate, to
high- end jewelry to trading. The success of the group is largely built upon the business acumen and
strong personal values espoused by its founder, Ibrahim Al Fardan, who established himself as a
respected pearl trader back in 1954. Established in 1971, we are proud to serve the UAE's cosmopolitan
community through our 70+ strong network, spanning across all Emirates. Reinforced by strong
relationships with over 150 global corresponding banks, financial institutions, and other financial service
providers, we offer secure transactions that firmly place reliability and trust in the forefront.