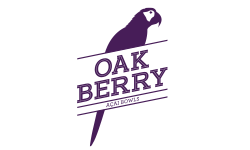 Oakberry Bowls
Store Overview
What is açaí?
The açaí berries are the fruits from the açaí palm tree, native from the amazon rainforest and being 80% originated by native extrativism, for that reason the açaí cultivation is sustainable and help to preserve the natural environment from the amazon rainforest. The açaí pulp is only about 15% of the fruit and it has great health benefits, it's a natural antioxidant that fights free radicals , its rich in minerals like potassium, calcium, E vitamin, healthy fatty acids like omega 6 and 9 and proteins
What is OAK?
OAKBERRY AÇAI BOWLS is a company thought to fill up a unique demand in the food market: healthy fast food. Not everyone has enough time to eat in an energetic and beneficial way. Our mission is to deliver a tasty, natural and nutritious experience, in no time.
We want to change the way fast-food is seen and thought, our time and health are both necessary factors for our life's quality. That's why OAKBERRY exists. The OAKBERRY Açaí is all natural. Our recipe is free of: Food Colourings, Artificial Preservatives or Syrup. OAKBERRY cares the most to preserve the benefits of the açaí.