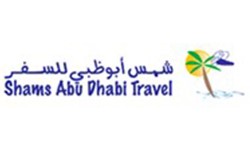 Shams Abu Dhabi Travel
Store Overview
Shams Abu Dhabi Travel is established in May 2007 dedicated to provide Travel solutions to Corporate and Individual Travelers. We are full service Travel/Holiday Supplier with core competence into business travel, specialized in creating effective client friendly corporate travel management programs.
Having now firmly established ourselves as one of the leading Travel Suppliers in the region we continue to see new opportunities for growth. The compelling combination of our values, relationships, market focus and sound business-sense place us in a strong position to seize these opportunities for creating further growth and development.
Our values are core to our business, mixing passion and loyalty to create business solutions with trust and care for our customers to ensure the highest level of success and satisfaction. Through our constant dedication towards customer satisfaction and unwavering commitment towards excellence, we have earned our stripes in this competitive travel industry.
It gives us great pleasure to propose our Travel Services to your esteemed organization offering efficient, highly professional and superior services. Our Travel Professionals are IATA qualified and having number of years experience in Abu Dhabi travel trade.